Experience the spiritual charm of Sri Lanka in the tranquility and seclusion of our resort, enjoy the holistic treatment in our Ayurveda center and explore impressive destinations such as the Yala National Park. All this is possible at the Thaulle Resort – in harmony with nature and in harmonious coexistence with the Sinhalese population.
Welcome to Thaulle Ayurveda Resort in Sri Lanka

At Thaulle Resort, we do everything possible to make your stay in Sri Lanka memorable. To achieve this, our Resort combines the advantages of three hotel concepts:
You enjoy the visual sophistication of a designer hotel with us.
We offer you the relaxing seclusion and curative treatments of an Ayurveda hotel.
Our use of resources and the nature around us corresponds to the sustainability promise of an eco hotel.
We are your certified Ayurveda organic resort in Sri Lanka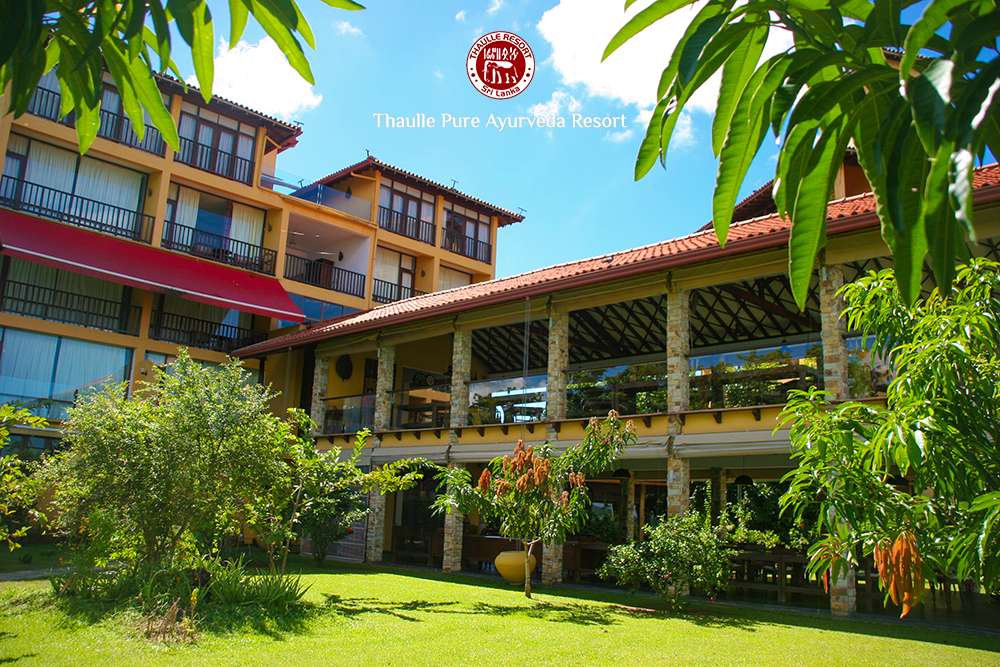 The Thaulle Resort combines the advantages of three hotel concepts: As a design hotel, we pamper you with the visual sophistication of individually furnished rooms in which western comfort meets Sinhalese craftsmanship. As an Ayurveda hotel, we offer you a holistic cure in our professional treatment center under the supervision of one of the best doctors in the country. And as an organic hotel, we are committed to the sustainable use of resources and food.
The charm of the individual.

Every stay at our hotel is unique, because none of our 28 rooms are alike. Enjoy the unique charm of your room, thanks to the decor of Sri Lankan antiques and wood from the Yoda Lake area. You can also enjoy the view through the large glass front with balcony – both part of the standard configuration of our rooms.

LOCAL , INTERNATIONAL & AYURVEDIC
In our restaurant, we spoil you not only with a wonderful view over Yoda Lake, the pool and the orchard, but also with lovingly created culinary delights. Our chefs are trained not only in the preparation of international and local dishes but are also specialists in Ayurvedic cuisine. From veggie burgers and Italian pasta to local curries and chutneys, we meet all food preferences.
* By loading the map you accept the privacy policy of Google. learn more